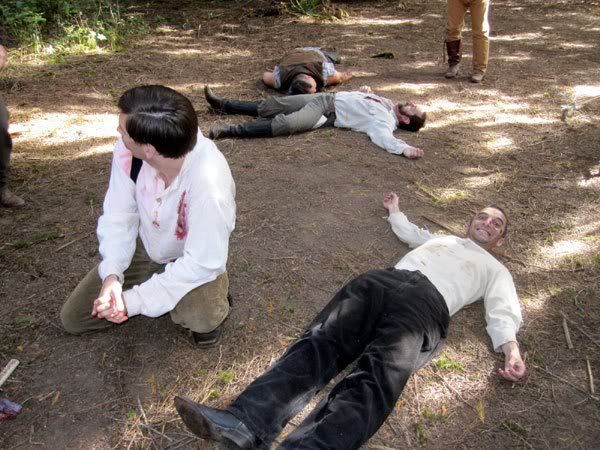 We're busily putting the finishing touches on Series II,
Hell For The Company
. As I go through the amazing footage that our DP
Andy Batt
captured, I can't help but marvel at how good the action sequences look.
Most of you know that our star (and my husband)
Jerry
is a seasoned stunt coordinator. One of the reasons he wanted to help me produce
Animus Cross
was to raise the level of action available to viewers on the web. We've got the experience, the equipment and the personnel (including local stunt players who appeared in the
TNT Television show Leverage
) to help put together some really kick ass action sequences.
We were really lucky to get the help of our friend and noted martial artist
Guro John Bruce Daniels
. "JD" is a 7th dan Black Belt in Arnis Demano and a certified instructor in Jeet Kune Do under Dan Inosanto, Bruce Lee's number one instructor. He's also worked on a number of film, television and video projects as a trainer, stunt performer and fight choreographer. We were in very very good hands. Working closely with Jerry, he helped make everyone look great during the big fight sequence with the creatures!
We also got to work with other seasoned stunt performers like
Keith Cox
(also a black belt and member of the Inosanto Academy), Derek A. Sasaki (a third-degree black belt in Kajukenbo) and
Scott K. Hills
(a black belt in Tae Kwon Do and Wun Hop Kuen Do kungfu).
JD's expertise in the Filipino art Arnis is also a perfect match to one of the signature weapons we use in the series - the Igorot headhunting axe wielded by Sheriff Sarcous and provided by Ron Kosakowski at
Traditional Filipino Weapons
. I chose the headhunting axe because of it's organic and deadly look. In JD's hands, it became very deadly and he was able to pass that aspect along to Jerry.
I'm really excited for you all to see the fight scenes we've cooked up for Series II... I've seen the footage many many times and it's STILL fun. :)
-A.L. Steen